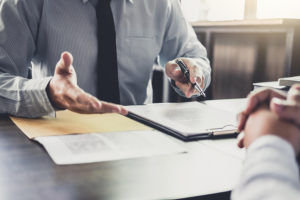 If you've received a foreclosure summons, you may be wondering how this even happened. Typically, a lender will send out a summons after three months of consecutive missed payments on your mortgage. This process varies but before a bank can foreclose on your home, they are required to attempt to reach out for payment with a phone call or letter beginning 30 days after a late monthly payment. If these requests for payment go unanswered, it is likely that you are heading into the scary task of dealing with a foreclosure. Without an attorney you can trust, you may be wondering how this foreclosure process will actually affect you.
The first step a bank will take in foreclosure is placing your home up for sale. The sale process can usually take two to three months but can sometimes take longer. While this is the worst-case scenario in a foreclosure, without representation, it is a likely result.
Will a Foreclosure Affect My Credit Report?
Another question that often gets asked throughout a foreclosure is how it will affect your credit report. Unfortunately, a foreclosure can hurt your credit score a great deal – sometimes by as much as 200 to 300 points. On a more positive side, a foreclosure will only stay on your credit report for seven years, so if it is an isolated incident, it is likely that your score will be boosted after waiting out this seven-year period.
How Long Should I Wait Until I Apply for Another Mortgage?
Another common question that gets asked by those going through a foreclosure is how long you'll have to wait until applying for another mortgage after going through a foreclosure. Similar to your credit score repairing itself, it is likely that you'll have to wait five to seven years after your foreclosure is complete before applying for another mortgage. However, if you are able to utilize a reliable attorney to negotiate your foreclosure in your favor, that waiting period can be as low as two years.
Foreclosure Defense From an Attorney You Can Trust
Instead of simply giving up your home and accepting long-term damage to your credit report, you can fight the foreclosure by turning to a respected attorney, such as The Lyons Law Group, P.A. We have many strategies to help you stay in your home because, in many cases, the lender has made mistakes with your initial paperwork which can lead to us taking your case to court, forcing them to drop the foreclosure, and potentially even being paid back for your troubles. We will even work with you to help ensure that your credit score doesn't fall quite as much as it would have if you had allowed your home to be foreclosed upon.
To learn more about the legal options available to you after receiving a foreclosure summons, contact The Lyons Law Group, P.A., today. We'll work closely with you to determine the right course of action to take for your unique situation.